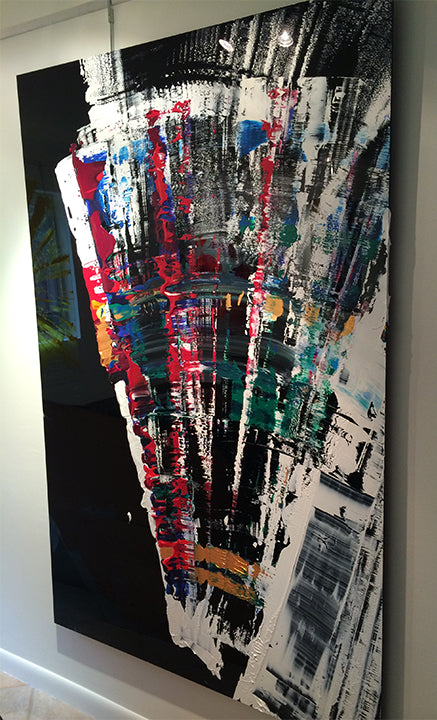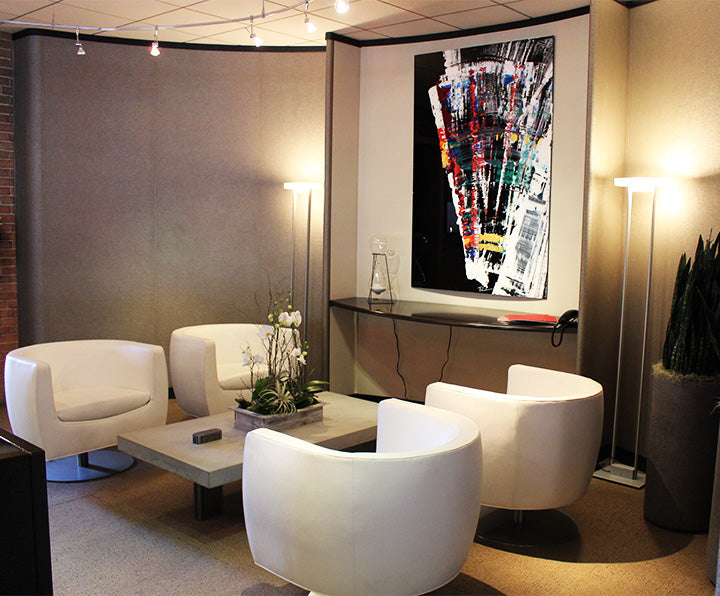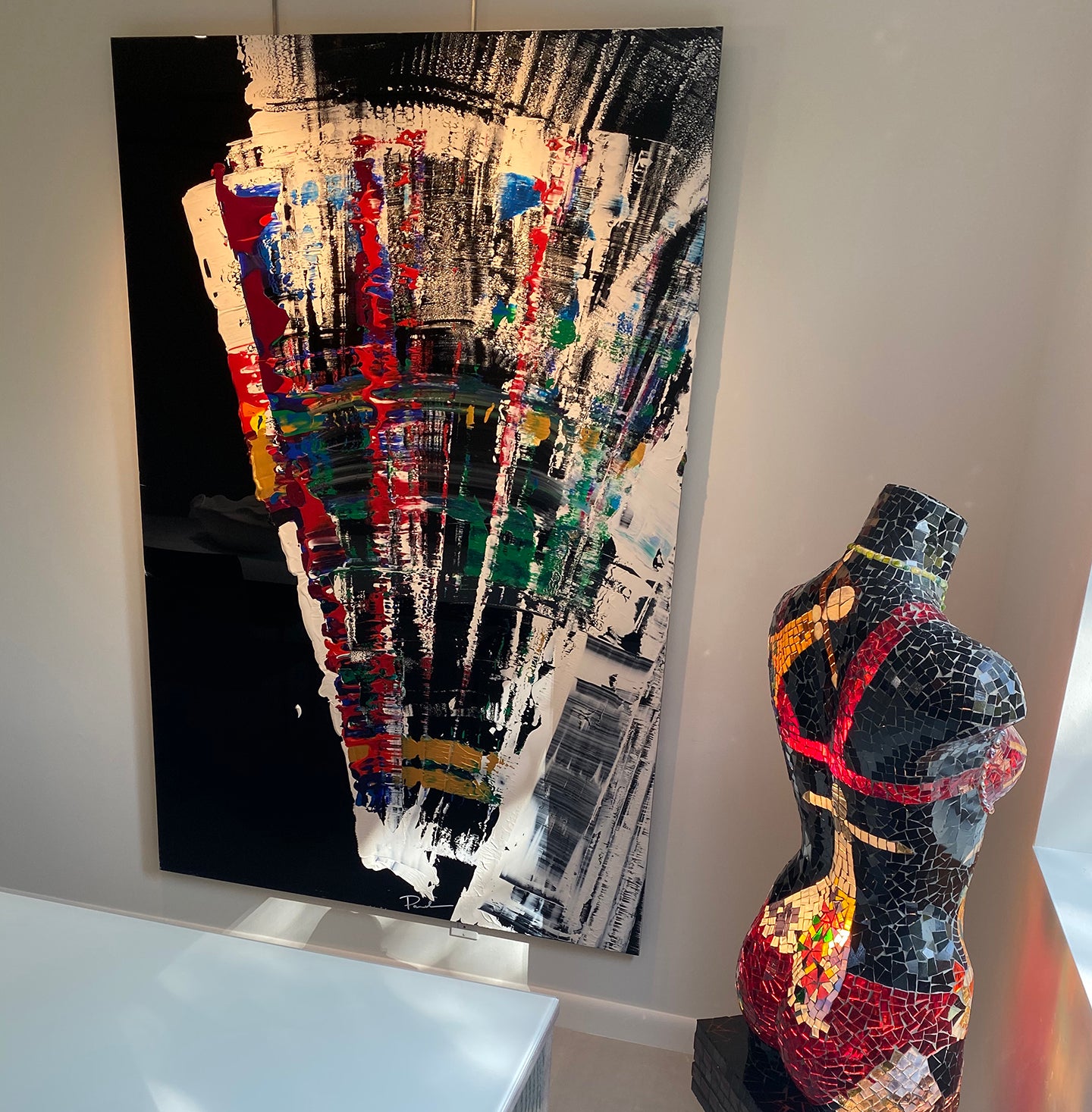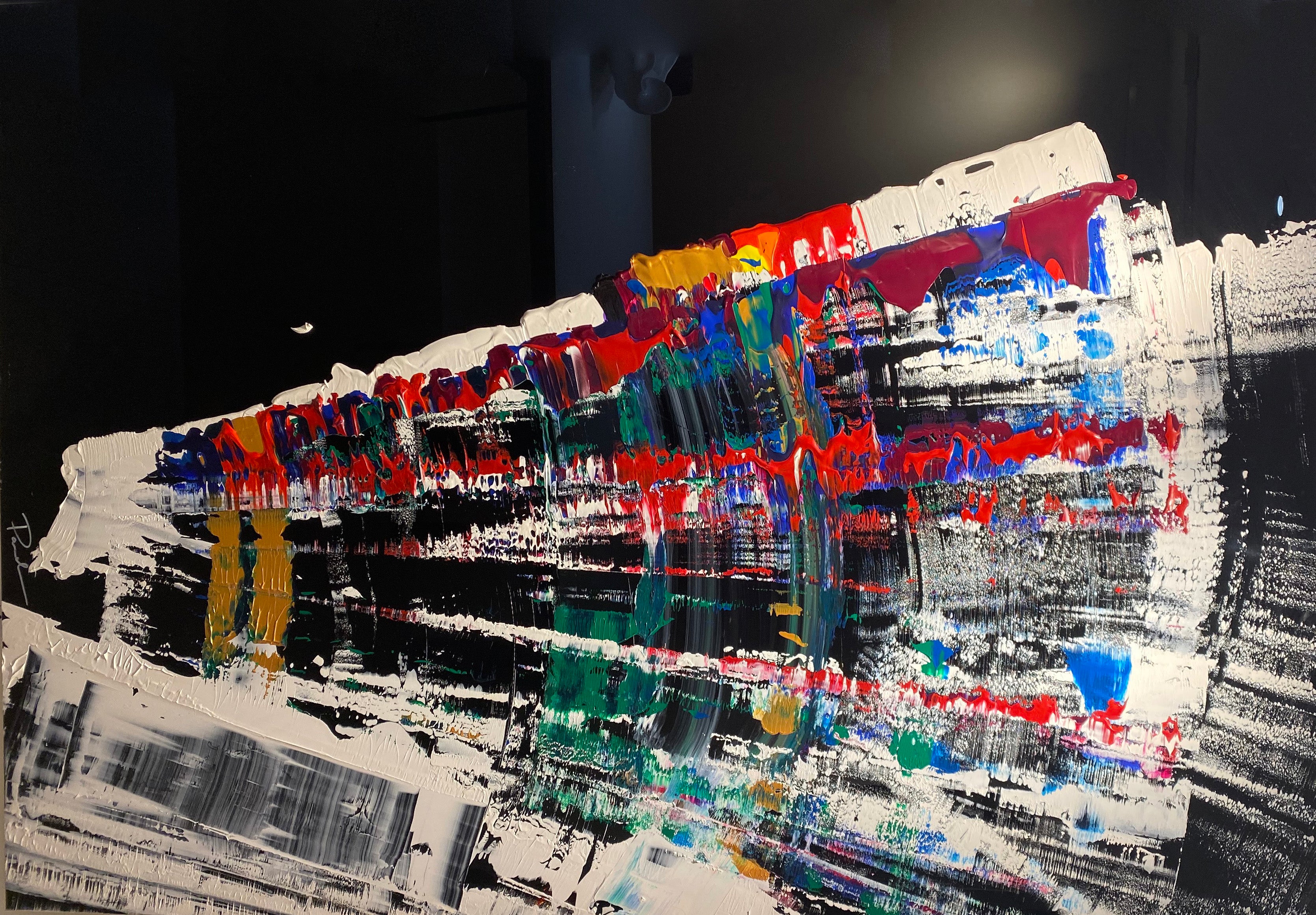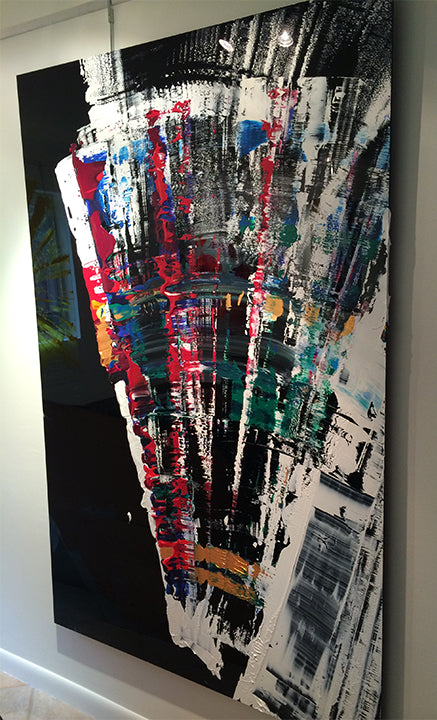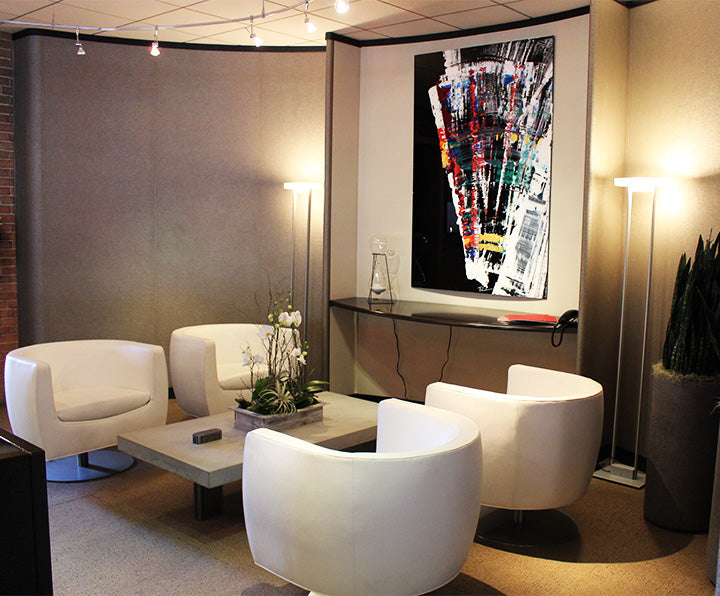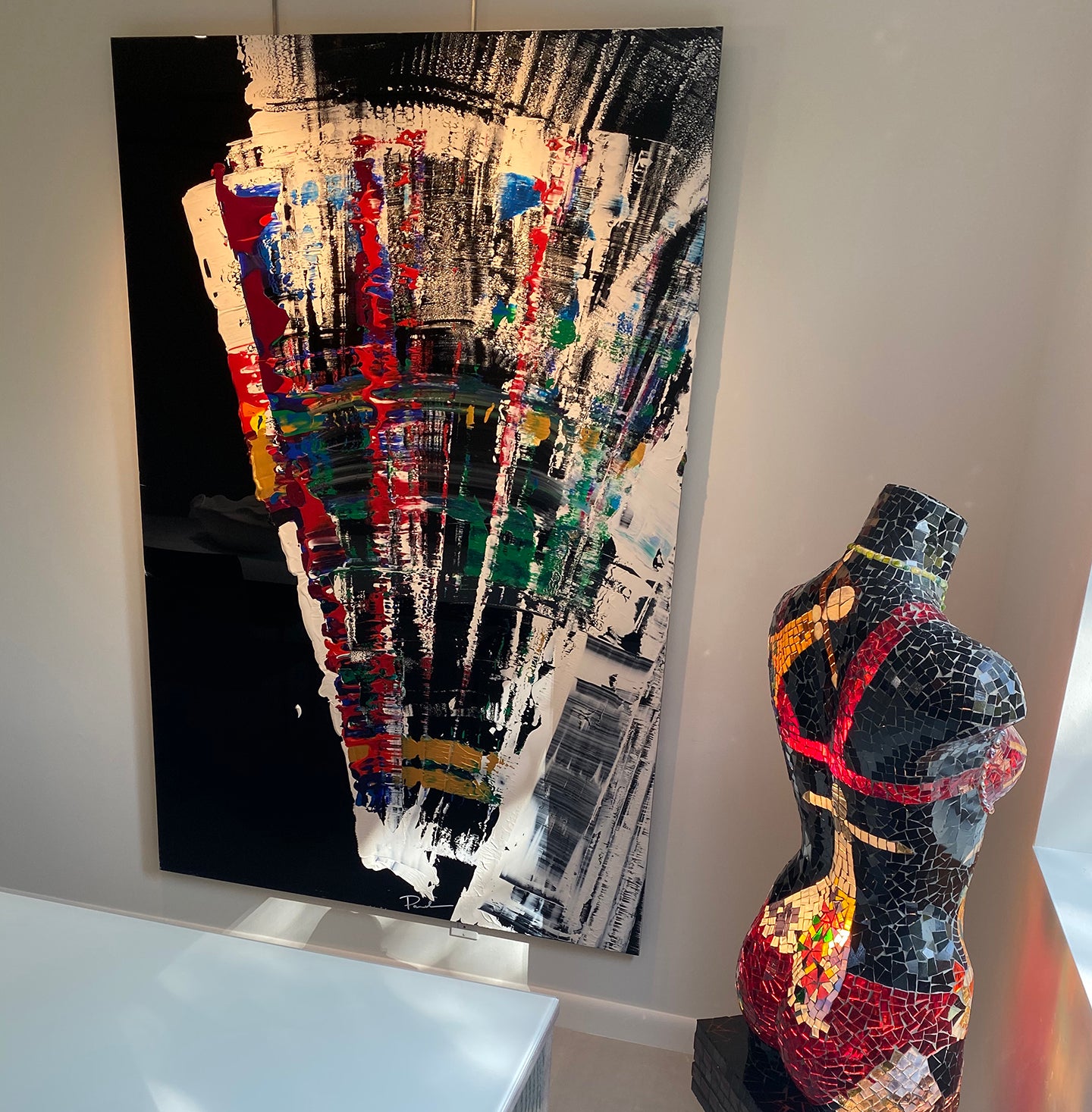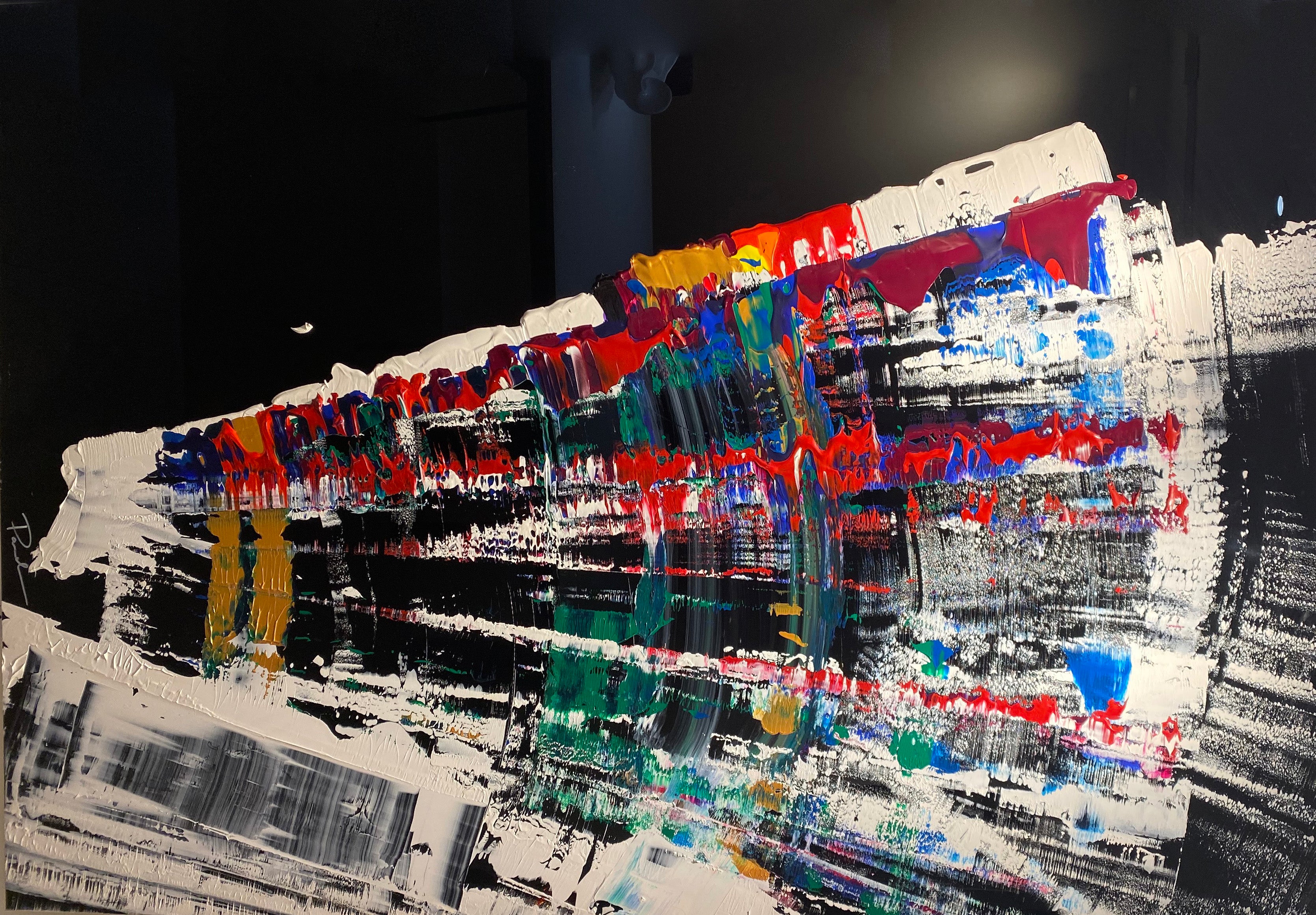 into the light
Every once in awhile. as an artist, you paint a piece that is monumental to you the artist. "into the light" is that piece for me. 
I first named this original "out of the dark".  I was going through a very intense, dark time in my life healing from memories of childhood abuse and when I was finally getting to a place where I felt like I was above ground, I decided to paint a white stroke on glossy black acrylic.  Symbolizing my victory.  In color psychology, white is the color of new beginnings – wiping the slate clean.  I was finally feeling the energy of an inner cleansing and purification of my thoughts, feelings and my spirit.

Over the years, I have created  tools to paint strokes anywhere from 3' to possibly 30', so I began painting my 6' stroke.  I absolutely love the way my tools glide the paint across acrylic.  So clean.  So smooth. 
Once I got the white paint on there and I took a look at it, I thought "Wait a minute, I'm so much more than just white!" 
And it was so exciting to me because I began layering colors!  Deep burgundy and red—the vitality passion and groundedness that I was so in need of.  Orange for my sexuality and creativity.  Yellow for the solar plexus chakra—taking my power back.  Green which is the transformation color of the heart chakra of forgiveness and letting go.  Deep and middle blue for being able to speak my truth and see my true essence, my Spirit.  Who I truly am.
And then I added a touch of metallic gold representing my higher power, my God, and my higher self.  Oh I've questioned a  lot "why would God allow me to go through this?"  I still do at times.  Have I been angry with God.  Yes.  Have I sworn at God.  Yes.  Have I thanked my God.  Yes.  For helping me get through it.  Quite a journey.  And at times I think "Hey I'm still standing.  I am really doing good.  I AM LIGHT!  The layers ARE me!"   And I painted them through kickass BOLD impasto paint.  FINALLY I was able to be BOLD!
So I renamed it "into the light"!
"into the light" is painted on a 72x48 piece of 1/2" gloss black acrylic.  It is meant to hang vertical, but can be hung horizontal if that fits your space better.  It comes 1" off of the wall.  
FREE shipping in the continental US
Contact for international shipping rates
Delivery: 3-4 weeks after order is placed.
*For international shipments, please contact artist directly.