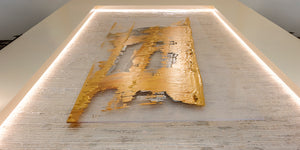 ART that invigorates the soul
LUXURY FINE ART COLORSCAPES THAT ENVELOP YOU WITH THE POWERFUL VIBRATION OF COLOR
MEET ME
Pamela Nielsen
"I have always felt that my art gift has come from a higher power. God's light showering inspiration into my art strokes. Because when I paint, there are no boundaries.

I paint the energy vibration of color—specific to my clients' spaces and design. Different strokes for different folks, as they say. Always something new....never gets boring...my dream as an artist.  I also paint to my favorite music and usually dance around my studio while creating—my happy place. This video is a compilation of some of my finest and funnest work over the years—backed by my vocal version of "Like Someone in Love."

My creations are meant to touch the lives of many. To deliver moments of happiness from my in-the-moment strokes. To open us up to the essence of our soul—to who we truly are without our story. To transcend to a higher vibration. We are all seeking peace and joy. My art will take you there . . . through the healing power of color."
Learn more
commissioned projects
Pamela's art catalog
multipurpose deZigns for your space
My passion is collaborating with private collectors, designers, and architects to bring your vision to life with art that embraces the energy of the design and space.
download my catalog
DO YOU KNOW HOW COLOR IMPACTS YOU?
SHIFT YOUR VIBES
Color influences our thinking, inspires our decision-making and impacts our moods. From causing changes to changing our reactions, colors are more powerful than we think.
LEARN HOW TO DESIGN WITH COLOR
GIFT COLOR TO SOMEONE YOU LOVE
GIVE THE GIFT OF COLOR
Color someone's life that you love with one of my gift cards that can be used at anytime, for any product in my store.
BUY GIFT CARD
what clients love about my art. . .
"We commissioned Pam to create a (9'x4') painting on metal for our home, featured on the Discovery TV Series Epic, which has become one of the home's center pieces. The art can be seen from 800 feet away with its spectacular nature & lighting. Highly recommend Pam!"

Kurt Larsen | President of Resource Mgmt. Inc.
"Pamela! Your work is beautiful, fluid, powerful, relaxing & so much more.  Well done!  I am finishing up a new book so my emotions are on the outside of my skin, seeing your work has re-grounded me & inspired me to dig back into it."

Madisyn Taylor | DailyOM
"Your art is awesome!  It is hard to pick just one, but I think my favorite is Amore.  I have it in my office so I see it every day.  I love the reds and touch of pink.  You are so talented, and I am so happy for you and your successes!"

Bobbie Cook | Owner Superior Home Services